1

one

Multimedia Ring Back Tones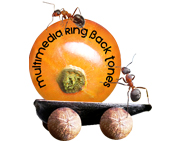 Our Multimedia Ring Back Tone solution was developed to create a paradigm shift in the Ring Back Tone category. At its core, it's more of an ever-expanding content platform than it is merely a ring back tone product.
The secret to our success is our VAS delivery platform, which was designed to deploy multiple VAS oerings across all possible networks and devices, even those that haven't been created yet. With this platform in place, we have created an end-to-end mobile environment for the delivery of rich multimedia content.
Apart from the usual ring back tones, our MRBT platform allows you to add on a virtually endless array of content, depending on your needs and those of your customers. You can integrate the MRBT solution with our Music Video Portal that provides access to a huge range of value-added services to personalise the ring back tone experience, from full audio and video tracks to wallpapers, truetones and licensed RBTs.
You can even add on Music Recognition, Video RBT Avatars, Social Media Portal access and more to provide a service that changes as the needs of your customers change.
For more info, email us at info@springworks.com.my
2

two

Mobile Payment
Each year, more and more consumers are taking advantage of anytime, anywhere mobile payment for all of their goods and services — from buying basic food such as bread and milk, pay for grocery, to split a bill with friend at a restaurant without use the need of cash. In response to this shift in payment habits, mobile payments have therefore been playing an important role not only for the retails experience, but as an economic life line for disadvantage small and medium merchants.
The mobile payment has grown to become somewhat of a lifeline for consumers with limited access to financial services, a convenient alternative which can substitute for bank branch at (very) basic level, allowing for some degree of financial inclusion. With Springworks Mobile payment solution, can increase revenue by accepting payments from the lower cost electronic payment channels and decrease costs from zero fraud losses and fully managed, PCI-compliant payment processing.
For more info, email us at info@springworks.com.my
3

three

Voice & Video Mail Solutions
In today's fast-paced world, mobility is everything; receiving emails via mobile phone is no longer a luxury, but a necessity. Understanding this, we've developed voice and video mail solutions that redene accessibility and ease of use.
For more info, email us at info@springworks.com.my