1

one

100% Fresh Mobile Applications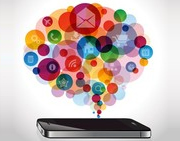 The rate of change around the world is such that everyone seems to have been there, done that, particularly in the mobile applications industry.
Consumers, exposed to such a diverse cornucopia of content and services, have become increasingly sophisticated and selective, consistently seeking out new products that fit their personalities and lifestyles.
For instance, the prevalence of 3G and 4G mobile technology has opened up countless possibilities for multimedia messaging, making conventional SMS obsolete. Dull dialing tones have been replaced with personalised audio-visual ring back tones. And, as mobile phones become more powerful, consumers are using them for much more than just communication; think mobile entertainment, socialising, internet surfing and more.
What's new becomes yesterday's news in a matter of months, and applications developers, content providers as well as operators are caught in a high-speed, high-stakes cycle where they need to change or be left behind.
Into this equation comes Springworks. Leveraging on decades of experience in the mobile value-added services and applications industry, Springworks brings refreshing insight to create new paradigms in the mobile marketplace.
Our task is simple; to create engaging, compelling and innitely scalable mobile applications and solutions that are relevant to the consumers of today, delivered faster-to-market than ever before.
2

two

A Vision for the Future
Springworks aims to innovate cut-through new mobile experiences that help create a global environment of joy and friendship.
We do this by focusing on advanced messaging technologies that turn communications into entertainment, and pushing the boundaries of personalised entertainment VAS such as multimedia ring back tones that make life more vibrant and fun.
3

three

An Inspired Mission
We are determined to conceptualise, develop, implement, manage and consistently enhance mobile value added services and applications that are easy to use, easy to enjoy and easy to share.
We believe in developing accessible, compelling content that taps into the psyche of modern consumers, inspiring them to share with their friends and loved ones, who in turn are empowered to share with those who are important to them, and so on and so forth.
4

four

A keen eye for compelling content
While we have the capabilities and expertise to develop applications, solutions and value-added services across the mobile spectrum, we focus primarily on the things that we're best at; messaging, ring back tones and mail solutions.